Double SIBW
From Curuxa Community
Custom Module:
Double SIBW
Author
Aarón González Iglesias
Type
Sensor
Style
Wired+Perfboard
Complexity
Easy
Based on the original SIBW-1Y black/white sensor, this Module has two sensors soldered to a single perforated board.
This Module takes some more time to build than the original SIBW-1Y, but it is much easier to fix or screw to a chassis.
Both sensors are connected to a Main Board using the standard data connector.
Electronic circuit
Bill of materials:
A small piece of perforated board
2x 18k 1/4W resistor
2x 220 1/4W resistor
6x Straight female headers (usually sold as 40-pin strips)
Some thin wire
Some heat shrink tubing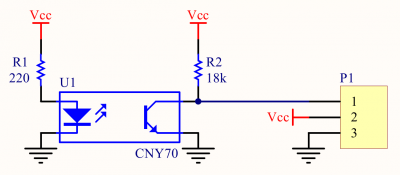 Wiring and explanation about how it works can be found in the official SIBW-1Y page.
Construction
Test
You can test this module using the SIBW-1Y test code.